Thailand Hosted More Than 1.15M Airbnb Guests in 2017
Airbnb have released figures signalling their continued hosting success in Thailand over the last year. With more than 1.15M domestic and international travellers using the Airbnb online booking platform too reserve their accommodation in 2017. The year-on-year booking growth proves why this platform is a useful channel for b&b's, guest houses and other accommodation providers seeking both short and long term guests in Thailand. 
The recent annual report distributed by Airbnb shows a huge increase of 67% in bookings from 2016. Airbnb, an online marketplace for rooms and lodging, said Thailand's increasing popularity with both domestic and international travellers continues to surge. The report indicates that visitors from all over the world chose to book their accommodation host in Thailand last year, with the greatest number of inbound international guests coming from nearby China.
Thailand's Top Booked Destinations:
Bangkok
It's no surprise that the Thailands cosmopolitan capital city of Bangkok held the majority of hosting success, with Upper Sukhumvit, Klong Toey, Din Daeng and Lower Sukhumvit included within the top trending neighbourhoods for Airbnb hosts.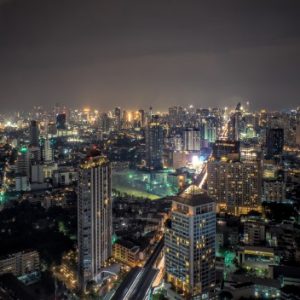 Pattaya
Pattaya city is Chonburi's tourist hotspot, and despite the huge variety of hotels, guest houses and resorts packed into this seaside city, it's huge tourism influx contributed strongly to the booking growth for Thai airbnb hosts in 2017.
Chiang Mai
The Rose of the North city of Chiang Mai also enjoyed a large proportion of travellers opting to use the online community market place to find their accommodation.

Hua Hin
Perhaps a surprise entry, but an interesting one nonetheless. The smaller beachside city of Hua Hin was included as one of the top booked destinations for Airbnb visitors to Thailand in 2017.

Will Airbnb's Thailand Booking Growth Continue in 2018?
As OTA loyalists increasingly convert to Airbnb to book their rooms, many are suggesting that it can become the next great hotel distribution channel. However, a report by 7Park Data investigated 'The Growth of Airbnb and Its Impact on the Online Travel Industry', concluding that despite Airbnb's continued surge, it still only has a minimal impact against the success of the OTA's. With search engine ranking and customer loyalty still favouring the OTA's, we predict 2018 to see a similar result, however depending on how online platforms and customer behaviour evolves over the next 5 years will certainly determine if Airbnb remains a thorn in the side of the OTA, or mounts themselves as a serious competitor.